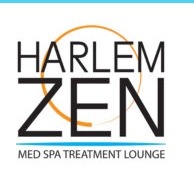 HARLEM
ZEN
VALENTINE'S DAY ZEN HYDRA GLOW-UP OFFER
Get the New ZEN Hydra Glow-up for $69
Total value of this special is regularly priced at $95, a 25% Discount
1- Zen Hydra Glow-Up
Cleanse, extract, and hydrate your skin with super serums made from nourishing ingredients that create a radiant glow.

This facial removes dead skin cells and simultaneously infuses skin with hydrating and moisturizing serums.

This relaxing facial automatically extracts pores with gentle vortex suction, leaving skin fresh and decongested.

​ Beneficial for all skin types and especially helpful for acneic skin. Nourishes, protects and hydrates with antioxidants, Hyaluronic Acid and peptides.