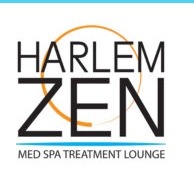 HARLEM
ZEN
VALENTINE'S DAY TREAT HER BUNDLE
Get the ZEN Hydra Glow-up + Back Facial + Eye Tx
Total value of this special is regularly priced at $265. Save 25%
1- ZEN Hydra Glow-Up.
Cleanse, extract, and hydrate your skin with super serums made from nourishing ingredients that create a radiant glow. This facial removes dead skin cells and simultaneously infuses skin with hydrating and moisturizing serums. This relaxing facial automatically extracts pores with gentle vortex suction, leaving skin fresh and decongested. Beneficial for all skin types and especially helpful for acneic skin. Nourishes, protects and hydrates with antioxidants, Hyaluronic Acid and peptides.
2- BACK Facial
A luxurious back treatment to remove dead skin cells and purge impurities while gently hydrating the skin. Enjoy a deep cleanse, followed by steam, exfoliation, a customized mask and extractions as needed. Finish with a light massaging application of moisturizer. Treat back acne, hyperpigmentation, dry skin and skin irritations for a smooth, flawless back!
3- Eye Tx
Soothe tired eyes, brighten dark circles and smooth wrinkles with this gentle hydrating treatment.